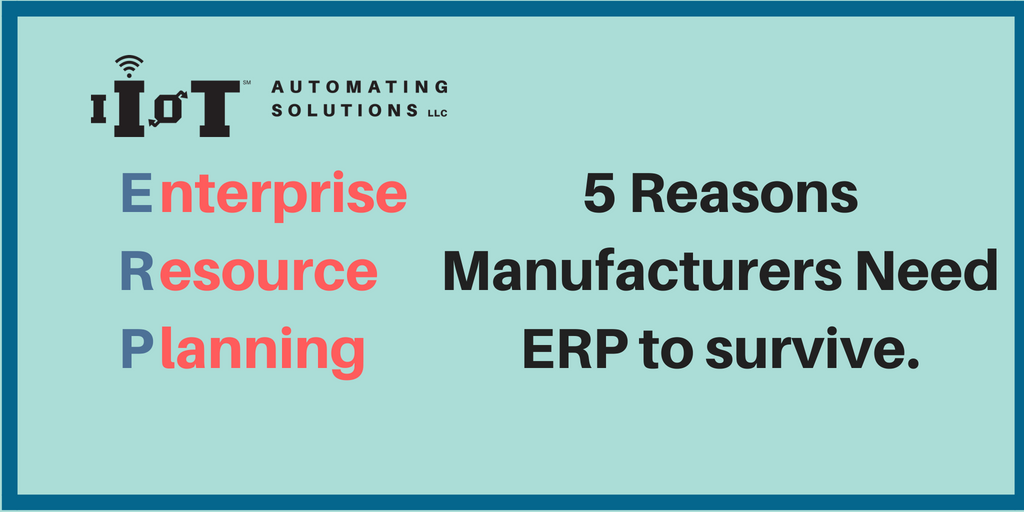 Manufacturers today are under a tremendous amount of pressure to provide products faster and cheaper than ever. Competition is no longer across the street but around the world. With such global competition, manufacturers are coming to realize that they must innovate to survive. To make products faster you need to know the bottlenecks in your process. No matter how long you've been making similar products, it's impossible to really know where your threats and opportunities are without data. So how do you get the data you need to make decisions? Data has to be collected into a smart business software that calculates what you need to know, optimizes the workflow in your plant and tells you what you need.
There are many reasons you need an ERP (Enterprise Resource Planning) but here are a few top reasons:
1) ERP smooths out the bumps so you can consistently deliver on-time as estimated
ERP provides the information to proactively manage your manufacturing process. Stop being surprised with equipment failures with data-driven decisions for scheduled preventative maintenance. See where your costs are accumulating so you can make corrections. Improve your on-time delivery without asking the customer if a day or two matters.
2) You can't fix what you don't know is broken
More than likely if you don't have an ERP system, then you primarily depend on just knowing your revenue and expenses for a given month to know if you're making money or not. You may not know which product lines are your biggest money-makers and which products are losers. You don't know your machine utilization, so you can't make adjustments as you go along to improve it. You don't know how much you are scrapping or why. You don't know which employees are the most productive. And if you don't know, you can't address it.
3) Customers are becoming more demanding
Many customers today require that their suppliers be ISO certified, but they don't just stop there. If you are supplying for automotive, medical device or aerospace companies, and almost any tier, then you will have customer audits. These operational and quality professionals are coming from much larger companies that already have ERP. They may not tell you that you failed the audit, but if they drop off the planet after a visit/audit to your shop, then it's likely because you don't have an ERP to ensure your processes are secure.
4) New employees expect computer systems that make sense
It's no secret that manufacturers are struggling to find the next generation of employees. In fact, if you're like most business owners in manufacturing today, you probably rate this as one of your top concerns for your business. Many organizations and associations for manufacturing are working hard to change the perception of manufacturing. However, when that young person comes in for a job, if they learn that they have to write things down over and over again, make labels, and fill out data in spreadsheets they may not hang around too long. A good ERP system makes sense to a tech-savvy young person. They want to find what they need in a few mouse-clicks just like they do for everything else. Don't send them to the file room.
5) ERP adds value that goes to the bottom line if you grow or plan to sell your company
ERP is so foundational to a company, that if you don't have one and try to sell your company, the buyer is highly likely to take the cost of off the price. New customers of any size expect things that ERP does well like automated packing lists, quick updates on the status of a job, bar-coded boxes, and more. Sophisticated customers may soon want to login and see their managed inventory programs, print their own packing lists, invoices and certs. This is all an extension of a good ERP. If traceability is important, it's going to be almost impossible to convince a new customer that you can do it without an ERP system in place.
in summary, having an ERP is no longer optional for a company that wants to survive for the next five years. And the good news is that it's no longer as cost-prohibitive or difficult to implement as it once was. There are a number of ERP companies that have products suitable for your business, from big highly customizable systems to tier-II and tier-III niche ERP systems from companies that work with manufacturers like you. You may be surprised to learn that the process for what you do is not as unique as you think. You can benefit from their expertise and then take your data to make your company competitive in this changing environment.
If you would like help finding the best ERP for you, we can help. We provide ERP Search Consulting for companies near Chicago, with a specialty in helping machined parts manufacturers. Contact me for a free consultation and get your company on it's way to success with a great ERP solution.