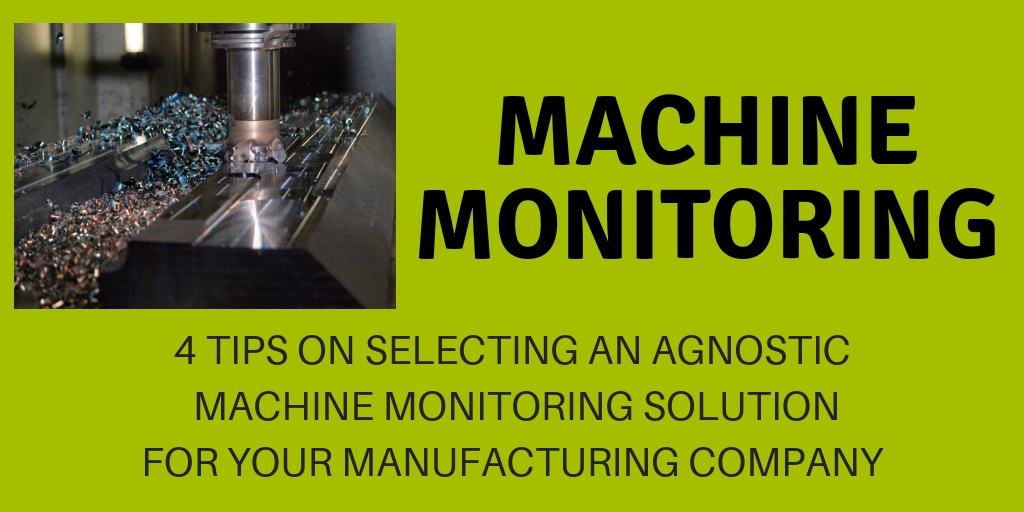 The evidence is overwhelming. Machine monitoring is no longer just for the big guys. Any company with 10 or more CNC machines needs "Machine Monitoring" or they are leaving money on the table in the form of lost productivity. For manufacturers who already have many software solutions in place like ERP, CAD, CAM and QMS, the next logical step is to find out what's really going on at the machines.
You may be in operations, quality or IT and you've been tasked in finding a good solution. So, do you select a solution? In this article, I will not specifically recommend one company over another, but provide some guidelines for selecting a great machine monitoring partner. Machine monitoring is a great way to start your company's IIoT implementation for the future!
Take an Inventory of Your Equipment

The first step to shopping for a machine monitoring company is to make a list of all the equipment that you would like to monitor. It doesn't matter how old the equipment is, if it has power, then you can get data off the machine that is valuable to your shop. For CNC machines, you'll create a list with the following information:
Machine #
Machine Make
Machine Model
Year Machine Built
Control
Machine Operating System
MTConnect Capable or Fanuc FOCAS?
Now, evaluate your list. What machines make the most sense to begin monitoring first? Perhaps you have a cell of machines or a product line you'd like to be more productive. Many machine monitoring companies offer free to low-cost start-up for monitoring a handful of machines. Decide which ones they would be. Now you're ready to get estimates for both starting and fully implementing machine monitoring.
Who Needs To Be Involved?
Make a list of the internal resources you'll need to begin a machine monitoring implementation. It will involve the operators, IT, quality and senior management at a minimum. If you can, find out what information that would like to have from the machines. Would a shift manager like an alert if a machine went down unexpectedly during 3rd shift? Would the CFO like to see reports weekly of machines below or above a certain efficiency threshold? Would an operations manager like a dashboard on a centralized display to discuss downtime during shift changes? Find out what everyone would like so you can select a machine monitoring company that can provide that information the way people want to see it.
What is your 5-Year IIoT Plan for Machine Monitoring?
Do you anticipate needing data from your ERP system to go to your machine monitoring software? Does data need to travel one way or two ways? Ask the machine monitoring company about their integration capabilities. Are they investing in development? How many developers? Like an ERP company, a machine monitoring company should be a partner for a long time, growing with you and offering you increasing ability to manage and integrate your data as technology advances.
There are companies that offer simple solutions and sophisticated solutions. Depending on the appetite your company has for learning new technology, either one could be right for you. Some manufacturers select a partner with a simple less costly solution just to see what efficiencies they could gain quickly. This may be fine for many years and they may opt to grow with that machine monitoring company. Other manufacturers want to work with a more mature partner to more quickly integrate data. Only your team can decide what's best for your company. In general, software companies in this space have only been around for 3-8 years, so a 6-year-old company could offer the most sophisticated product!
What is Your Budget and ROI expectations?
The good news about machine monitoring is that any basic machine monitoring solution can tell you when machines are running in cycle, not in cycle or not running. Most provide a way for your operators to communicate the reason a machine is not running. And they ALL provide ROI when you begin to get this information in real-time. You may have an idea of your OEE or % runtime or machine efficiency (whatever you call it), but when the machine provides that data and your operators give you the reason, you will find it rarely matches your tribal knowledge of efficiency. For the biggest gains the quickest, you should monitor many machines. Companies with machines at different locations find this particularly valuable. If you're on a tight budget, then you can start with a small number and grow as you see the ROI.
The field of machine monitoring is getting more crowded every day, and the market is still very young. What matters the most is not which company you select, but that you pick someone and get started. Here I've addressed selecting a machine monitoring company that monitors cross-platform. Many CNC machine makers want you to use their built-in monitoring solutions too. But the reality is, that most shops don't have just one kind of machine. This is why selecting an agnostic machine monitoring solution with support customized for your company's needs is critical. It's time to do your research, or just pick up the phone and call for more information.
Rose of Sharon DeVos is the CEO and Founder of IIoT Automating Solutions in the Chicago, Illinois area. She helps manufacturers select, implement and optimize technology solutions like machine monitoring for proven ROI. Contact her for a free consultation today!